Today was a day we experienced Chinese History in Beijing. The main events were Tienanmen Square and the Forbidden City. Even though we had a tour guide it's still difficult for me to explain what exactly it is, but from what I understand it could be somewhat compared to the monument mall in Washington, D.C. (you know, there are a few long standing monuments, wide open spaces, and government buildings everywhere). What this area is most famous for, of course, for many of us was the events some time ago when a long peaceful protest didn't end so peaceful (and I will leave it at that).
At the far end of Tienanmen Square is the entrance of the Forbidden City. It was built in the 1400 as the palace for the emperor. It's really difficult to explain exactly how it looked, but the pictures below will hopefully help you to visualize it. The whole grounds where forever long. There would be this huge building at the end of a wide open courtyard, that was also fenced in by surrounding houses, and then you would walk up to the big building and there would be doors that would open up to another huge courtyard with another big building at the end of it. Sometimes the courtyard would have bridges and rivers running through them. But this process went on for a very long time. Just as I thought, "This has to be the end" we would walk up to the next big building and their would be another courtyard. Our tour guide put it like this, "if you were to sleep in every room only once, it would take you 27 years to finish." It sounds a little excessive don't you think?
They whole sight was something else. It was all very beautiful. The only crappy thing was that many of the big building were covered with scaffolding and screens because they are trying to re-do them before the Beijing Olympics in 2008.
For lunch we went to the Cantonese restaurant which was good, but on the way in we walked right past a Dairy Queen that was in the same restaurant. So as soon as they brought us the watermelon (which has been the last dish at every meal we have had) we all went and got Blizzards...and let me tell you....they were delicious.
We made one more stop to the Summer palace which acted as the emperor's getaway home. I was talking to some of the others and we felt kind of bad here because we talked the tour guide into cutting this visit short so we could make it to the Pearl Market to shop, but this place seemed to be the coolest place to go. Of course, the forbidden city is a top tourist attraction, but the architecture at the Summer Palace was amazing, and the building there are surrounded by a huge lake, and we felt like we could have spent some more time there. So all I am saying, is if you go to China, consider spending a little more time here, and maybe a little less at the Forbidden city (but that is just my advice, and I'm not speaking for the group as a whole).
And finally, we made it to the Pearl Market. I think that besides visiting the great wall, this was the place we were most excited about visiting. It's a huge building that is completely full of purses and clothes, and silks, and jewelry, and most important....Pearls. And I can tell you, there were quite a few purchased today...so if you are lucky...maybe....just maybe....
Enjoy the pictures.
AJ, Alex, Janelle, Matt, Jason and Ryan posing for a picture in front of a Government building in Tienanmen Square.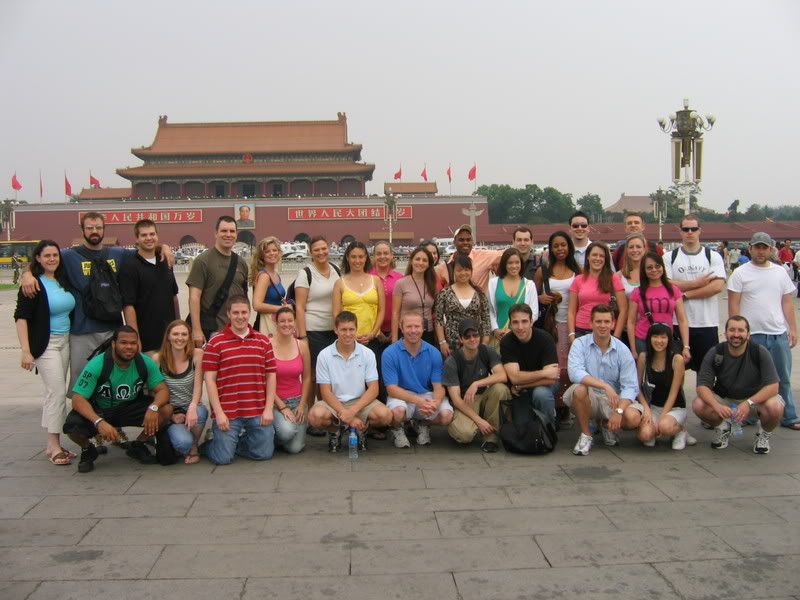 Here is a group picture. Our tour guide hauled us over here and lined us up, and had a professional photographer take the picture, and I think we were all excited. And then she said, "For $12 you can buy this photo." So we laughed at her and I ran out there and snapped a photo for us, so we can print it off for $.15 at Wal-Mart.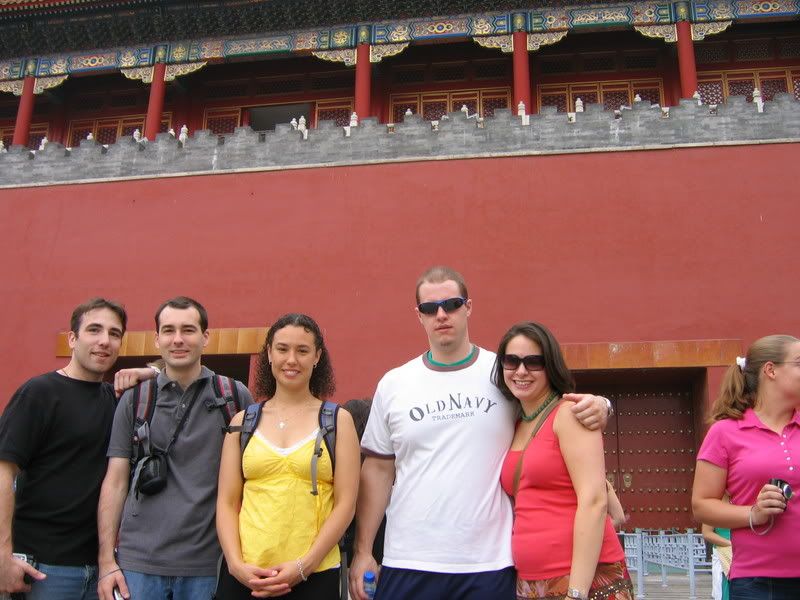 What better to do when you are waiting in line to get into the Forbidden City that take a picture.
Another group of students snapping a pic in Tienanmen Square.
In one of the Courtyards there are 5 bridges that each represent a desired Characteristic (i.e. knowledge, righteousness, integrity) and tradition says you walk over what ever bridge describes what characteristic you would like to be blessed with. Dr. McIntyre made us all go over knowledge. So this picture is a group of students going over that bridge.
If I remember right, this is some students entering courtyard 3 or 4, and as you can see, there is the door in the background leading to another one (and they aren't small courtyards either).
Here is some of our class in front of one of the big buildings. I could be wrong but it seems like this was the Emperor's living quarters.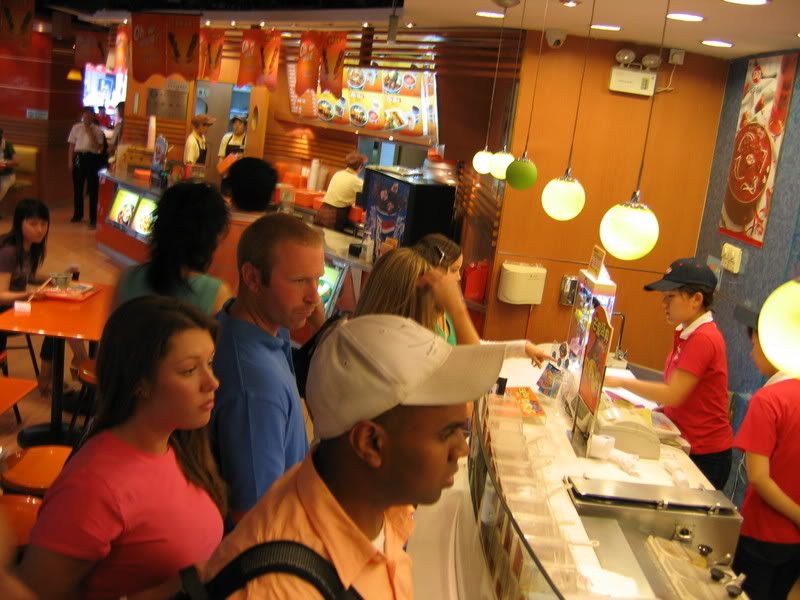 Ahhhhh....Dairy Queen. Jason, Lauren and Chris look to enjoy theirs real soon.
This is a picture of one of the buildings at the Summer Palace. It's pretty, huh? Just like I told you.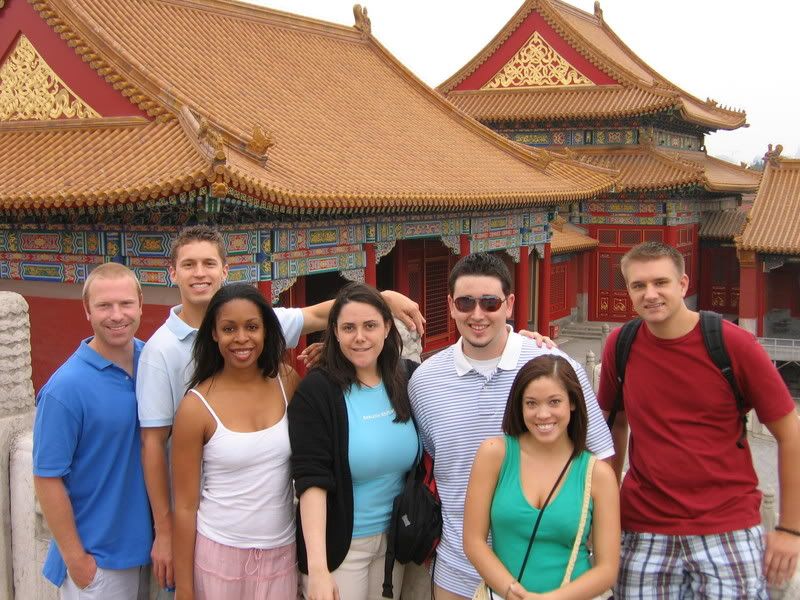 Some more students in the Forbidden City. You can tell from the buildings behind them that it was all really pretty.
This is a little bonus. As I mentioned a couple of days ago, we had a little mishap with the bus. Well, this is the video of us giving it a little help. As you can see, we were all quite pleased with our selves.