What a busy day. While in Shanghai we'll begin our day in the Hotel's restaurant. It's a Western Style buffet, so the professors have encouraged to eat as much as possible because there is no telling what else we'll be eating for the day. They have everything you can imagine there, so it wasn't difficult.
We loaded up on the bus and headed for
Yu
Gardens. I think many of us were in some of the most crowded places we have ever been in. I kind of feel bad for Dr. Chow and the other tour guides as you can see their attempts to keep us together. But there are so many new sites, sounds (and smells) that we easily forget they are trying to get us somewhere specific.
The
Yu
Gardens were really
fascinating
. The gardens were beautiful, and the artifacts they still have (statues 500+years old) are just not things we normally see. The gardens are surrounded by a huge shopping area, where hundred of shops are set up. For 30 minutes we were finally released out on our own the mingle with the Chinese people and try our attempt at bargaining. From out of no where
Chinese
citizens will run up to us and shout any
English
word they know (HELLO!, okay, U.S.A., hey lady.) in order to get out attention and try to sell us an array of bags, watches, shoes, and DVDs.
We had our first bout with authentic Chinese food for lunch. We all got to try many new things. Some things we liked, others we didn't. They would bring out plate after plate of new dishes. I would guess that we tried at least 10 - 12 new foods, which I'm sure is just the beginning.
We then headed to the
Shanghai
City Exhibition Center where we had a guided tour to learn about Shanghai's recent growth and where they hope to be in the future. There is no doubt it is a growing city. After the convention center we broke up into groups and headed down Nanjing East Road, which is a 1 to 2 mile strip of shops and stores. By this time we quit making eye contact with the watch salesmen (I guess eye contact means "I really want to buy a watch from you"). But many of us found some good buys and did some good bargaining, and I promise we have some good stories.
To finish off the night we took a riverboat tour at
Huangpu
River. We had our own little private area and were provided with some good
ol
'
KFC
. I'm not sure it quite tasted like the stuff back home, but it was nice to see Colonel Sanders again. The tour was great though. The river runs right through the middle of Shanghai and is surrounded by some of the most amazing buildings I've ever seen.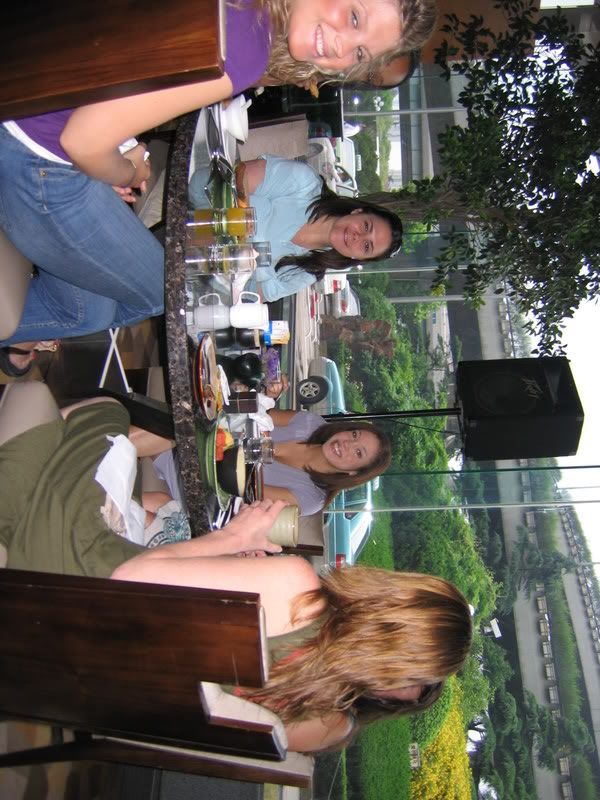 This is breakfast for us in the morning...good food...good location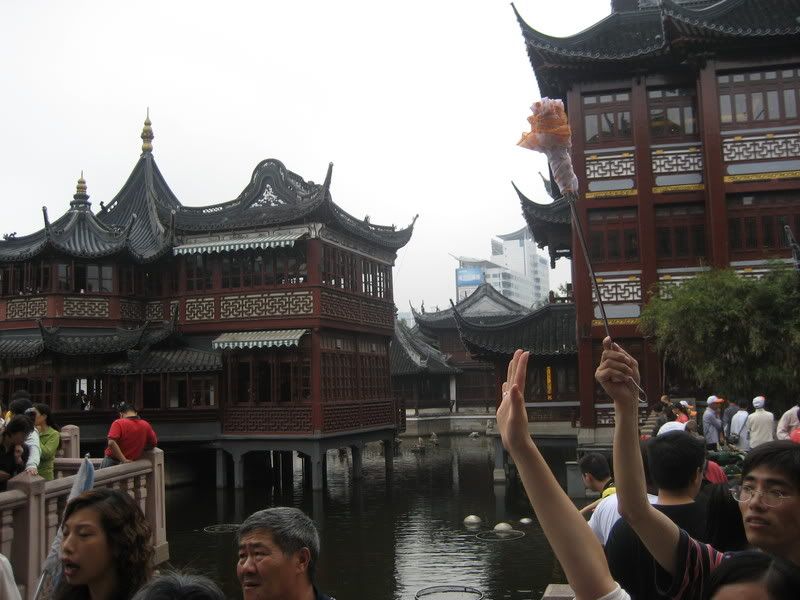 This is the outside of the
Yu
Garden. Notice the
umbrella
in the sky. When we got lost in the masses, that is what we looked for.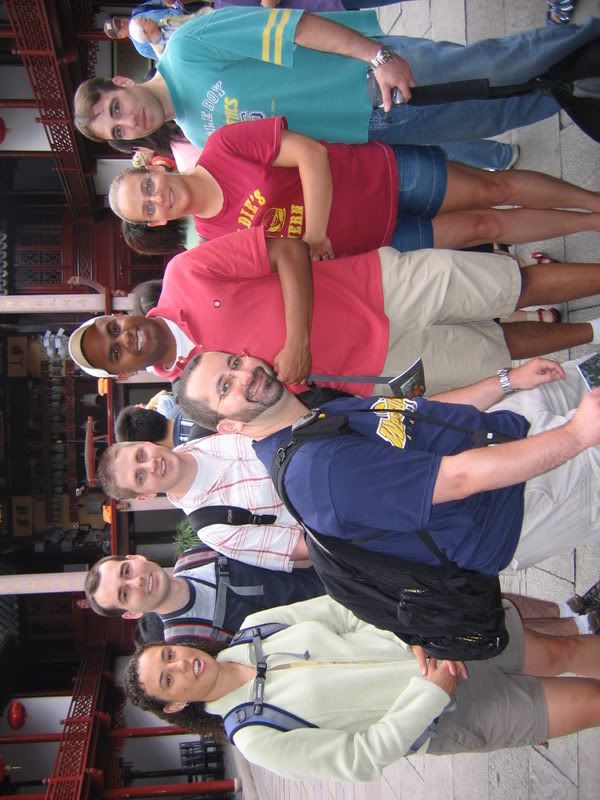 In the
Yu
Garden. In the background is where they would put on these bell shows. I'm not very informative on that, but trust me...that's what they did.
Allen looking though one of the house windows in the
Yu
Garden.
Here are some students in one of the Halls of
Yu
Gardens. It was
amazing
to see the intricate work that went into the room.
We're about ready to go into the
Yu
Garden.
It's hard to refute the strong
resemblance
between these two....just kidding.
While many of us were shopping, this group of
MSIR
students decided to do something more productive with their time. The funniest part of this picture is that two of the guys are dressed up like Chinese concubines. As I'm sure you can imagine...they drew quite a crowd.
A small sample of lunch. Not a fan of the big white blob in the front, but everything else here was pretty darn good.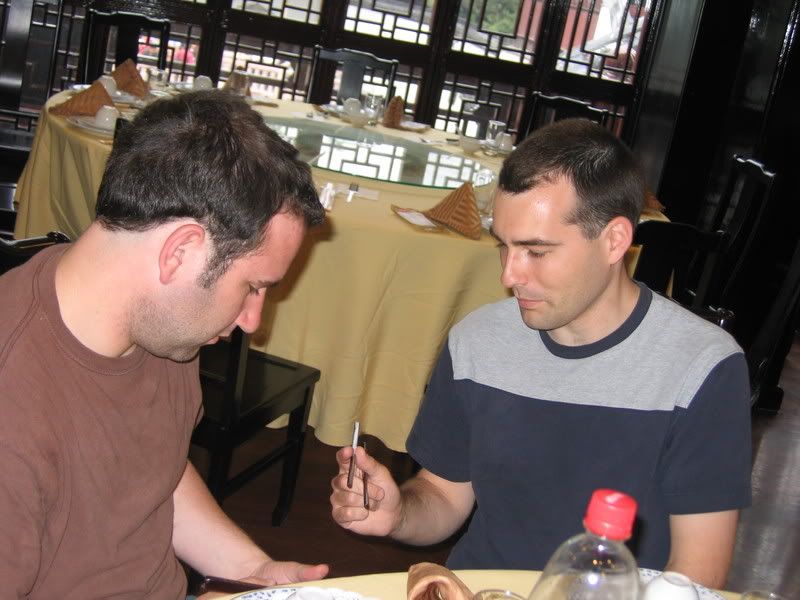 Derrick giving Cord a quick Chopsticks lesson after we noticed there wasn't going to be any silver ware on the table.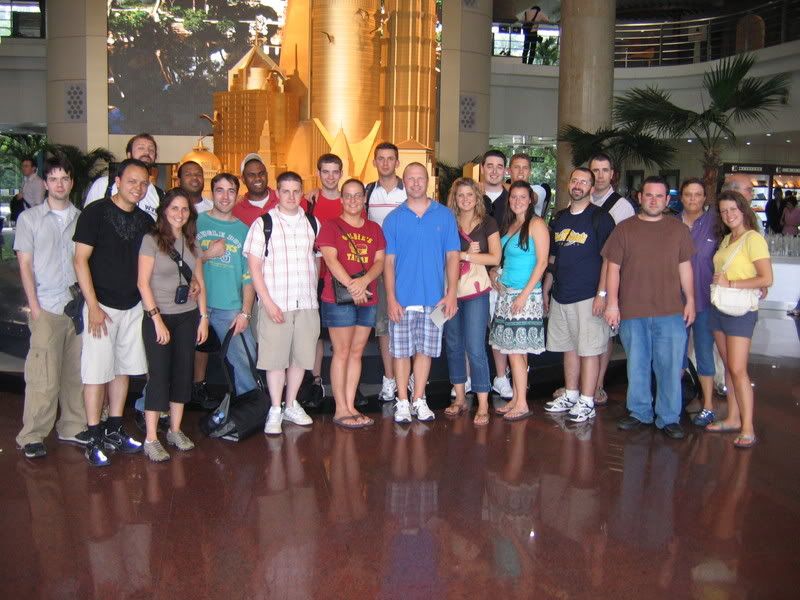 Here we are at the
Shanghai
Exhibition Center. The big gold thing in the back is a display of Shanghai buildings.
This is one of the shopping streets we walked down..."Hello...U.S.A., Watches...Cheap!"
This women asked them if she could have her picture taken with this group..funny, huh?
You can't go on a boat ride without one Titanic
impersonation
...
Pig's Head anyone?
This is a picture of the lounge on the river boat...enjoying some
KFC
and Pepsi...delicious.