Today was a day of straight business...and still, I think we can all admit, it was a good day. For those that don't know, the purpose of this trip is to learn about Chinese retailing in two ways: 1. through observation and 2. Through a one day "Consumer Behavior Seminar." Today was that seminar.
Typically a seminar is a pretty relaxing day, but not today. You see, we were the main event. For 2 months we have been studying in our groups about U.S. retailing so that we could present what we found to our Chinese hosts. We divided up into 5 groups and were given 2 hours in order to present our
material
to a small group of Chinese
MBAs
and a few Chinese Executives. We had all worked so hard to prepare that I think that when this part was over a huge burden was lifted off of our
shoulders
.
I think the way it went for most of us was we presented about a 30 minute presentation and then opened up to the others in order to compare and contrast the two different countries and their methods in retailing, and I think the one
conclusion
we all came too is that all there are a few main differences, surprisingly our strategies are much the same. Although it was all very informative, I think our favorite part was that we were able to meet some new friends and learn what their lives are like: what they like to do, what they watch on TV and what they hope to do in the future. Once again, we found that our likes are much the same (they all love the show 24,
CSI
, and "Hollywood Movies.")
We also had the pleasure of hearing from 2 key speakers: Dr. James Brown,
KMart
Professor of Marketing at
WVU
and Mr. Jay
Cao
, President of Greater China
Hyperian
Solutions
. From them we learned the trends of U.S. and Chinese retailing. They were both very good lectures.
Once we got all of the business out of the way we were able to sit back and relax and enjoy a dinner banquet with our hosts. We made sure and intermingled our tables (with bother U.S. and Chinese students) so we could learn more about them. It was also our first chance to sing some "Country Roads." The Chinese Students got a kick out of that. The group at my table kept looking at me saying, "What is that, what are they doing?" It was fun to bring them a little bit of West Virginia.
Anyway, I do have some pictures below. It's hard to get some good action shots in a classroom but we tried to get at least one of each group on there. Just so you all know, tonight is our last night in Shanghai. Tomorrow we will be flying to Xi'an, a more rural part of China. It was at one time the Capital of China and is full of Chinese history. We are very excited about the trip. My only concern is that we are told that it is a less advanced city so I'm sure what the status of the
Internet
will be or what kind of access I'll have. I'll do my best to make sure you all know we made it safe, but if a post is delayed, don't worry.
The first 5 pictures are each group giving their presentations. They aren't very good pictures so I'm sorry about that.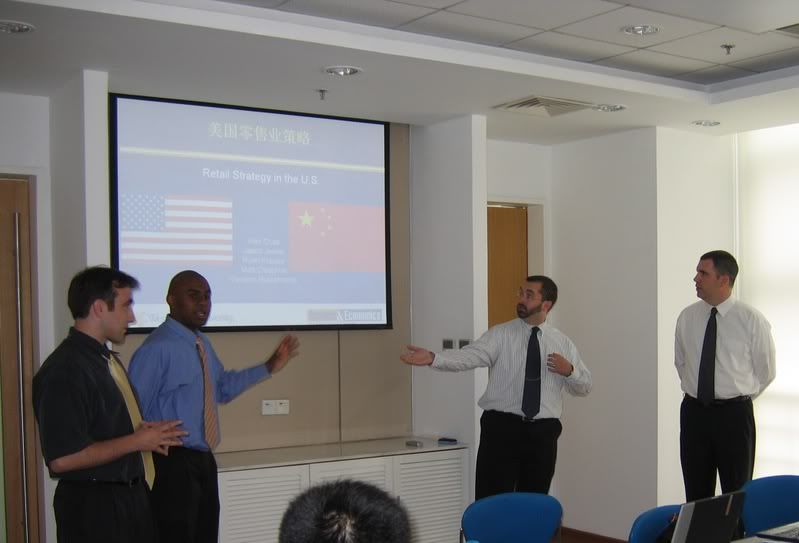 This is the room where we listened to our speakers. You can see in their faces who much they are liking it.
This is the dinner we had with them. After the dinner we exchanged a lot of email addresses so we can hopefully continue our friendships.
Here's another group at dinner.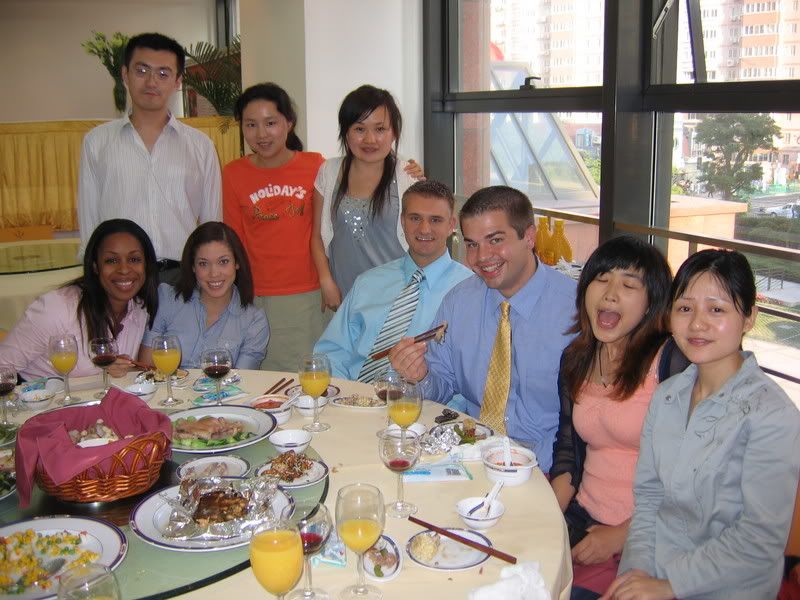 I just wanted to show two dinner items on the menu tonight...duck
tongue
and pig
stomach
...Yummy!!!